Most of us have gotten to be "old hands" at packing and getting things ready for the movers. But many people forget that not all of your belongings are inside of the house. Lots of folks have to scramble at the last minute to prepare their outdoor furniture and accessories because they simply forgot about them. 
Here are steps you can take for your next move to get your outdoor furniture ready for movers: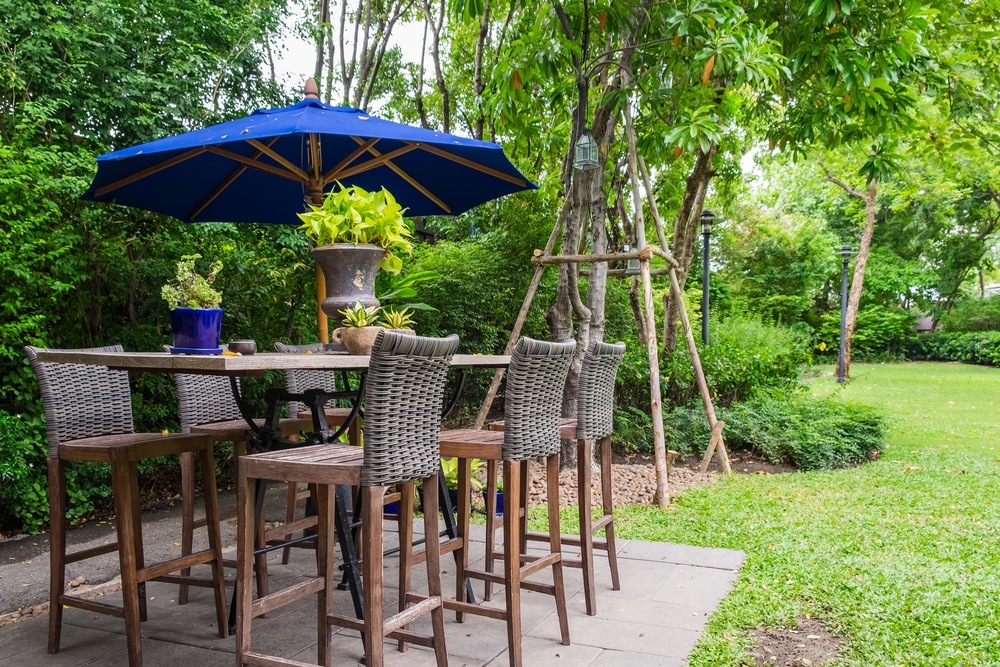 Examine All of Your Items 
One of the first things you want to do is to look over all of your outdoor furniture to find any damage. Because they're exposed to the elements so much, many of these items tend to wear out faster than regular furniture. 
If a lawn chair is broken or a chair cushion has become mildewed, it's best to toss it. If you don't plan on throwing any of it out, make sure to take pictures of the items (especially of any worn spots). 
You may want to take pictures of your furniture before the move so you can feel confident when you unpack in your new home that all the furniture was packed with care and moved without any damage. 
Clean It  
Next, perform a deep cleaning on all of your outdoor furniture. If possible, throw your cushions and pillows into the washing machine to get rid of any traces of mold. 
Use soap and a good water sprayer/hose to clean off all of the furniture and larger items. As you do this, make sure you get rid of dirt and other trash that may have accumulated over time. 
Also, if you have furniture with hollow sections (such as tubing) make sure that you clear out any insects that may have decided to nest inside of them. You don't want the movers picking up your outdoor chairs only to have a nest of wasps come flying out. 
Doing all of this not only keeps you and your movers safe, but it also means that you won't be taking dirty items on the moving truck with you as these can get other items from inside the house dirty.
Break Down the Furniture (and other items too) 
If you're paying professional movers according to how much space you use in the moving truck, you definitely want to pack everything as compactly as possible. For lawn furniture, take the items apart (as much as you can). To make it easier to reassemble the items later on, be sure to use heavy packing tape to tie them all together. 
Alternately, you can place everything (including the screws and bolts) into separate bags for easy assembly. Definitely don't just throw it all together and hope it will make sense when you get to your new home. 
If you have a glass tabletop, wrap it in protective cushioning such as moving blankets. Lawn umbrellas should be closed and tied shut so that it doesn't pop open in the truck. 
If you have lots of outdoor cushions and pillows (or other small items), you can save a lot of space with vacuum bags. Place the items inside of the bag and then use your vacuum cleaner to draw out the excess air. This makes it easier to stack the items up in the truck. 
Finally, if you have pool items (such as floats), pack these appropriately. Floats should be deflated, dried out, and then rolled up. (You can also use vacuum bags for this.) Pool chemicals should be packaged and properly labeled to prevent spills or leaks.
Outdoor Furniture Needs Special Care in Packing for a Move
If you're hiring professional movers to pack up your items as well as move you, they should already be familiar with these tips and make the process smoother. But, if you are packing yourself so the pros can move you, then make sure to follow these so your move goes quickly.
Easily Move Without Worry or Stress. Hire Experienced Movers That Care.
Crescent Moving & Storage has been in business for over 40 years providing reliable, timely, and safe moving services for businesses and homeowners in the Vancouver area. Find out why so many trust Crescent Moving to care for their most valuable assets. Contact us for a FREE, no-obligation moving quote.