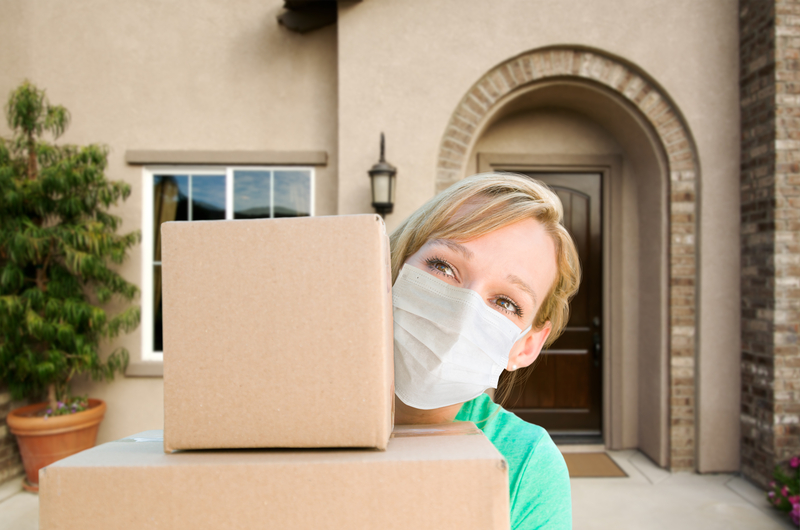 Right now, millions of people around the world are on lockdown because of the COVID-19 pandemic. Unfortunately, it isn't always possible to put everything on hold until a vaccine is found for the virus. For some people, this includes having to relocate, whether it be for family or business reasons. However, as with anything during this uncertain time, moving is something that has to be done with a large dose of caution. 
Here's a guide to how you can move during a pandemic while staying as safe as possible:
Follow the Rules

— The first thing that should inform every part of your move is following the proper CDC guidelines. This means that during the moving process, you

should stay at least six feet away from everyone else

. You should also wear a mask to prevent the spread of the virus in case someone in your group is infected but asymptomatic.
Extra Moving Supplies

— If you've moved before, then you know that you have to include lots of tape, boxes, and bubble wrap (or similar padding for breakables.) But with COVID-19, you have some other things that you need to pack along. Namely, you're going to want a disinfecting spray (such as Lysol), soap, hand sanitizer, and disposable rubber gloves (such as surgical gloves). These are going to

be incredibly important as you move into your new home

.
 

Get New Boxes

— Those of us who have made a career (or at least it seems that way) out of moving to new homes with regularity have probably gone for the cheap solution when it comes to boxes. Namely, we stake out the dumpsters in grocery and liquor stores for the packages that are tossed into the recycling. However, this isn't going to be the safest bet with COVID-19. Instead, opt to buy the new boxes fresh out of the packaging that you can find at your nearest shipping or packing store.
Disinfect EVERYTHING

— Even if you buy brand new boxes, we still suggest not leaving anything to chance. This means you should disinfect everything that you plan on coming into contact with. Be sure to visit your new home before you begin moving in. Clean the house from top to bottom,

thoroughly disinfecting all of the surfaces

. You have no idea who has come in contact with these surfaces in the days leading up to your move, so better safe than sorry. The point is that if you can't smell the disinfectant in the air, you probably haven't cleaned it enough.
Consider Buying an Air Purifier

— When you're getting ready to move into your new home, you want that home to be clean. Now, we already told you to disinfect everything in the house, but you can also consider buying a HEPA air purifier for the new home and leaving it running for a time before you move in. This can help clean the air and possibly remove COVID particles from the air. If a purifier isn't an option, at least leave the windows open to air out any trapped particles in the house (and clear out the smell of the disinfectant).
Be Careful on Move Day

— When the big day finally rolls around, you should adhere to all of the requirements set aside by the CDC.

Wear your mask at all times

. If you have gloves on, then don't touch your face (especially the eyes or nose) at all. If you take off your gloves for any reason, clean your hands with sanitizer and then put on a new pair of gloves. If you don't have gloves available, wash your hands regularly. 
Be Careful Who You Invite Over — It's a time-honored tradition to recruit your friends to help you out with the moving process. But with there being a lot of worries about who may (or may not) have COVID-19, it is important to be careful with who you ask to help. This is where hiring a professional mover is a great idea. You want to make sure you're asking your movers how they plan to keep safe and keep you safe while moving your items into your new home. They will be prepared to move using best practices.
No Contact Post-Move Dinner

— Another big tradition with the move is the post-move dinner of take-out food from a local restaurant. But when you partake of this tradition, make sure to order from the local restaurant and have it scheduled to be left at your door, so you don't come in contact with the delivery person. (But, please, leave them a nice tip. They are delivering food during a pandemic after all!)
If you're forced to have to relocate during this rather scary time in our history, it's not the end of the world. Just be sure to be careful and disinfect everything and follow the proper guidelines as closely as possible.