When spring cleaning to get rid of some of your "junk" (especially right before a move), it's pretty easy to set up a yard sale to liquidate your belongings before you have to pack it up. 
But what if you run your own business and need to do the same thing? Every time you relocate, you probably find yourself with banged up office furniture that needs to be done away with.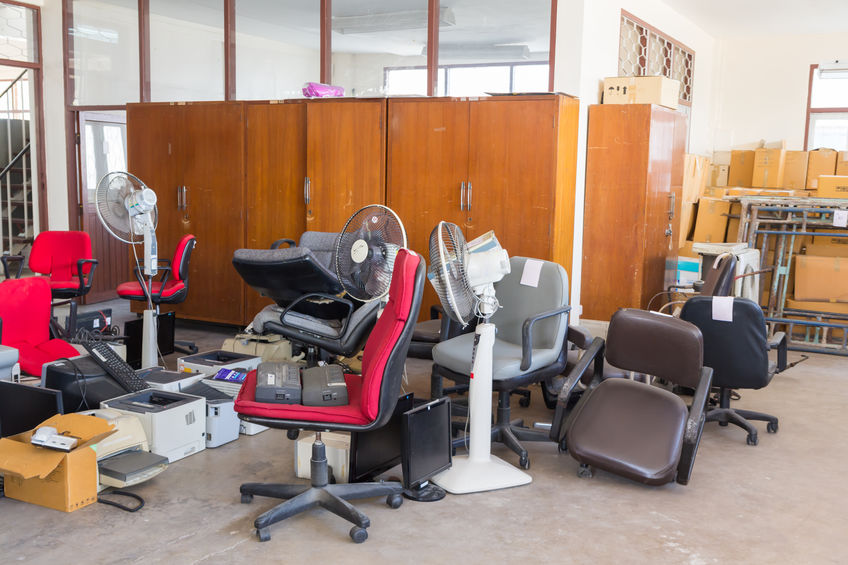 Now, the easy option for this would be to call a service and have all of it hauled to the landfill. But this just adds to the environmental problems that are destroying our world. 
So, how do you get rid of your excess office furniture while doing so in a sustainable "green" manner? Here are a few ways:
Sell It

— If you have a small business, it shouldn't be hard to sell your excess furniture. (Larger inventories can be more difficult, but not impossible, to unload.) 
One source for potential buyers is within your own company. You can offer your employees their first choice of used furniture at a steep discount. Many of them would jump at the chance to stock a home office with a comfy chair or desk they're used to, especially if it's cheaper than they could get from a furniture store. 
If you still have pieces you want to sell, you can advertise a public sale. Let the local community, especially those who are running start-up businesses of their own, know that you're getting rid of furniture pieces and many will come running. After this stage, your last step would be to contact a used furniture store to see if they're interested in making you an offer.
2) Donate It — If you can't sell your furniture, consider donating it. Many non-profit organizations are doing their best work on a shoestring budget. In addition, schools are still critically underfunded and must resort to holding fundraisers just to buy basic supplies. Any of these organizations would love extra furniture with light wear-and-tear. And, you can also possibly qualify for a tax write-off by making these donations. 
3)  Recycle — Another potential tax break is if your community has a recycling center. These organizations are geared towards repurposing and reusing used goods. Many will even talk to you about picking up the items for you.
For larger companies with a huge supply of furniture, these three options may not necessarily work well for you. Selling your excess furniture (or donating it) may still be an option, but it's going to be too unwieldy a project to handle by sending out a few emails or phone calls. 
With that in mind, you should consider the following steps:
4) Count EVERYTHING — The first thing you'll need to do is create a detailed inventory of all your furniture items you need to get rid of. This should include everything from the manufacturer to the model number of the item. Ideally, one person should be responsible for this project. However, if you have too much for one person to inventory, consider setting aside one person from each department instead.
5) Communicate Your Plan to All of your Departments — If you're getting rid of furniture, you might think that only procurement or facilities should really work on this project. However, if you have a community outreach or marketing department that handles charitable donations, you should definitely keep them tied into the project. These departments may have community resources who can help you find places needing the furniture.
6) Procure a Storage Area — If you're planning to sell or donate a large number of surplus furniture pieces, it will take some time. The second-hand furniture market can be quite fickle. One day, you might be able to unload dozens of pieces at a good price. Another day, you might find a school system willing to take fifty desk chairs. But then everything else might dry up for weeks and months. If you choose to give up and toss out the rest, you could be throwing away money as you are filling up the landfill with your furniture. Instead, procure a storage area for the unused furniture. This way, you can manage your surplus until you can find a way to get rid of the items.
7) Hire movers that can make quick work of moving the furniture into your storage area. They may  know places around town you could donate or offload furniture! After all, they move furniture all the time. Use a reputable moving company that has been in business for years, so you know they know the community and it's needs.
It used to be that if you got a new desk or chair, you simply tossed the old one in the dumpster and moved on with your day. Bu